MMW Digital Radios
HXI Radio Brochure

GigaLink LightSpeed millimeter wave point-to-point digital radios first debuted in 1995 under an experimental deployment with NTT in Tokyo. As Harmonix (our original name), we were instrumental in securing the FCC allocation of the 60 GHz spectrum in the USA, and we were the first FCC Part 15.255-certified MMW system operating in the 57 to 64 GHz band (V-Band). Since that time, HXI has consistently set the mark for reliability, capacity, and low cost of ownership for V-Band and E-band (70/80 GHz) digital radios. This tradition continues with our newest GigaLink LightSpeed millimeter wave radios, which are available to satisfy most regional allocation rules.
Radio Capabilities/Features
60, 67 and 70/80 GHz radios with industry standard features.
Full duplex Gigabit-Ethernet data rates.
Extreme Low Latency (approximately 2 nS per terminal)
Highest E-Band power in the industry, up to +27 dBm.
Improved antenna mount/pointing hardware for easy installation.
100% bench and range tested for dynamic range and bit errors.
Proven mission-critical performance in Iraq/Afghanistan.
Multiple antenna and polarization options.
Custom radios for specialized applications and R&D/educational purposes.
GigaLink V-Band (60 and 67 GHz) 6000 Series Digital Radios
FCC Part 15.255, "unlicensed" (57-64 GHz)
Gigalink LightSpeed™ 6651 (PDF)
Gigalink LightSpeed™ 6671 (PDF)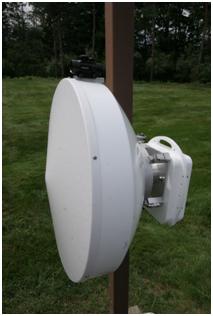 Radio Testing and Qualification at HXI
Outdoor Far Field range for 1 foot antennas
Indoor near field range
Indoor calibration fixtures
Full Ethernet and RFC 2544 testing capability
Gig E Ethernet
Interference and field support test receiver is available for frequency surveys, antenna pointing verification, and channel sounding measurements
Radio Interference Tester
Gigalink LightSpeed™ 7186R (PDF) 71.0 to 76.0 GHz and 81.0 to 86.0 GHz (in 2 channels)
Downloadable Publications
AutoPoint Alignment System
High Frequency Trading Turns to High Frequency Technology to Reduce Latency
Why Wireless Millimeter Wave Radios Will Fuel the Coming Microcell Boom
Technical Support, Pricing, etc.
For additional information, including pricing and technical support, please contact HXI at 978-772-7774, ext. 221 or gigalink@hxi.com
Custom-Designed Analog Radio Links
HXI routinely addresses requirements for customized versions of these radios, including analog links, custom antenna configurations, alternate frequency bands, HDTV usage, etc. Among our customers for custom versions are the Air Force and the Department of Energy.
HXI has developed a number of custom-designed analog radio links for a variety of applications. Backhaul of collected data that needs to stay in analog format is a common usage. Perhaps the most unique application of our radios is the usage by Brookhaven National Labs on Long Island, where two of our analog links are used for particle beam path correction in their RHIC facility. In this case, extremely low latency coupled with wide frequency bandwidth and high dynamic range was required to complete a feedback loop for the control of the beam.
Stochastic Cooling in RHIC cutting the chord enables higher loop bandwidth.
Microwave link (70 GHz)

Higher frequency> more particles
Installed and tested with beam

5 to 9 GHz analog bandwidth
Travels 700 meters
Timing w.r.t beam: stabilized with pilot tone